Introduction
The WooCommerce Shipping Plugin for Myfreight/Myparcel is a full shipping solution for any WooCommerce online retailer who ships products within Australia.
The WooCommerce Shipping Plugin for Myfreight/Myparcel is add-on software for WordPress websites which deploy the WooCommerce online store. It provides real-time independent domestic shipping pricing for the Cart and Checkout pages, prepares shipping consignments when the customer places an order, prints labels and manifests, books the transport carrier when the ordered goods are ready to ship, and tracks the shipment through to the buyer, providing delivery status updates via email and the WooCommerce admin panels.
The plugin accesses Myfreight's massive database of competitive shipping rates from an extensive list of major and regional transport carriers. It presents the lowest cost shipping service for sending the selected goods to the customer delivery address, or allows customers to choose from a selection of freight services.
To get started right now CLICK HERE TO DOWNLOAD PLUGIN.
This is a well-behaved non-intrusive plugin. You can try it on your website using the Myparcel option without commitment, and remove it without affecting any of your existing WooCommerce setup or data. You can set it up yourself, or if you prefer to receive assistance in setting up the plugin, please open a Support Request.
When the Myfreight WooCommerce Shipping plugin is used in conjunction with Myfreight or Myparcel for shipping, the online retailer is able to:
provide immediate, accurate and economical shipping pricing to buyers - for every size of satchel, carton, skid and pallet
reduce shipping costs by using least cost selection from a large range of transport carrier services, and anticipating packing methods used to ship products
streamline product delivery by eliminating shipping data entry and conveniently managing all pending shipments
automate label printing with professional carrier labels
automate shipment manifest printing
eliminate trips to the post office as products are booked and shipped from your premises
track deliveries through despatch, collection, transit and delivery
display, print and download reports of past shipments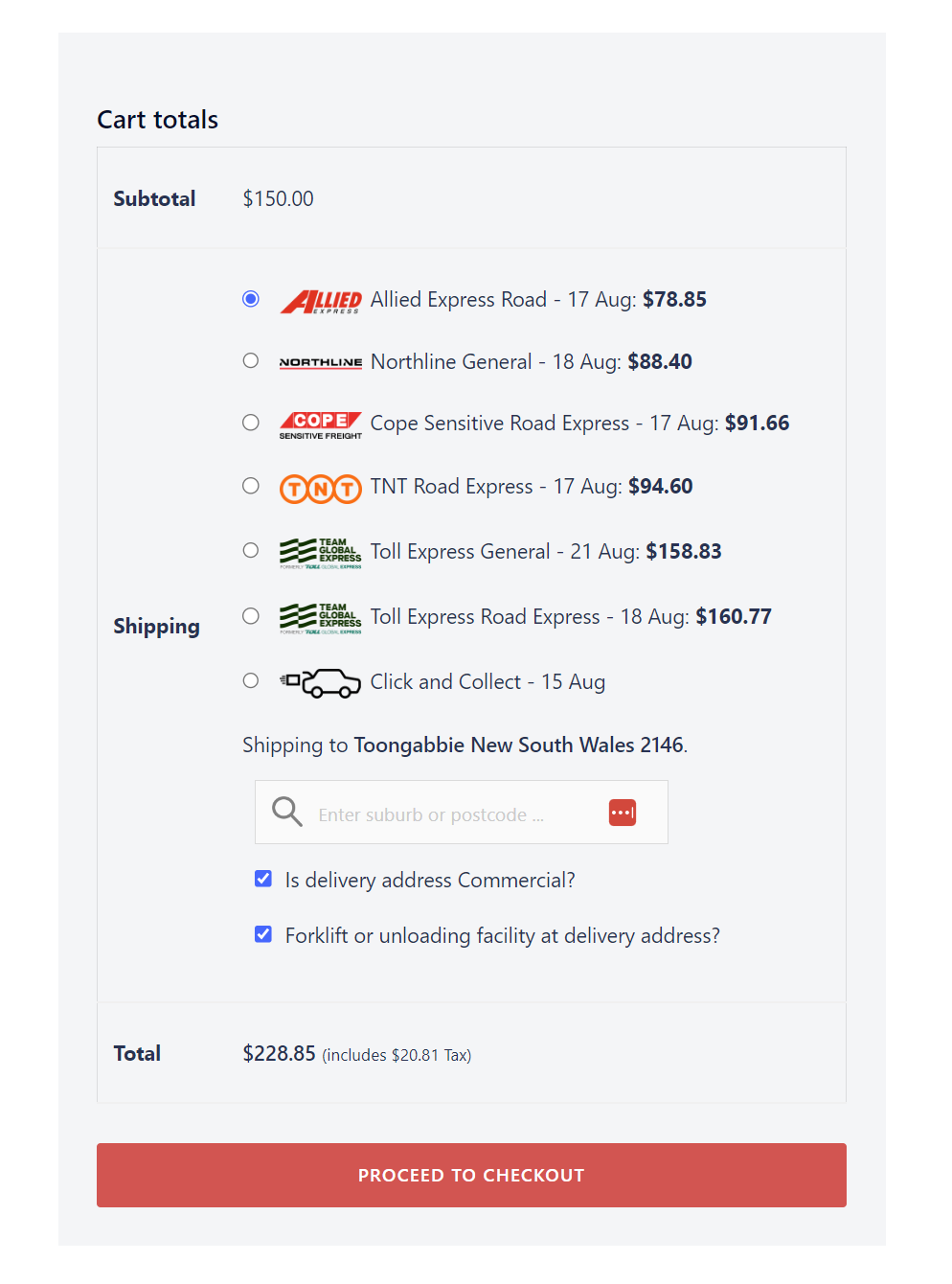 Screenshot of shipping pricing displayed on WooCommerce Cart and Checkout pages.
Main Features
Accurate and instant least-cost shipping pricing for WooCommerce online stores
Single or multiple shipping price options presented on Cart and Checkout pages
Options to offer "Free/Discounted Shipping" (based on value of products purchased), "Priority/Expedited Shipping" and "Click & Collect"
Address Helper to streamline checkout and assist with accurate address entry
Auto booking data pre-fill in Myfreight or Myparcel upon customer order
Eliminate time and error re-work compared to manual entry of shipping details
Pending shipment list synchronised with WooCommerce order status
Shipment tracking status automatically updated in WooCommerce order list and detail pages
Support for multiple store / warehouse / supplier locations to ship products from - With algorithm to calculate which has lowest cost shipping to customer delivery address
Support for packing multiple ordered products into single/fewer packages for shipping (based on customisable rules)
Least cost carrier service(s) automatically selected based on cart product data, packing rules, warehouse locations and customer location
Carrier independence - No transport carrier service gets preference over any other except based on price, speed of delivery and systems capability.
Additionally...
Address Helper displays official suburb selection list upon partial entry of suburb or postcode
Compatible with many other plugins such as "WooCommerce Shipping Calculator on Product Page"
Shipping data is generated only when order status changed to "Processing" (i.e. the customer has paid)
Ability to regenerate shipments when part-shipping or corrections applied to order
Option for shipment tracking information to be inserted into WooCommerce order completion emails
Shipping and tracking details displayed on each WooCommerce admin order detail page
Myfreight/Myparcel consignment/booking tab opens directly from WooCommerce order summary page
All Myfreight/Myparcel consignment/booking fields are auto-populated (including Carrier Selection) but can be changed at despatch time
List of pending shipments assists with managing the flow of stock out the door for transport carrier collections
Fragile Goods supported and auto-populated in consignment/booking
Dangerous Goods supported (Myfreight only) and auto-populated for each product in consignment
Shipping prices provided ex GST, allowing WooCommerce to apply GST if so configured
Store / Warehouse locations configurable per product, and optimal ship-from location calculated per order
"Packing" feature allows multiple store items to be consolidated into a larger container for pricing and shipping
This plugin supports shipping within Australia only, but can be used in conjunction with other WooCommerce shipping methods for international shipping.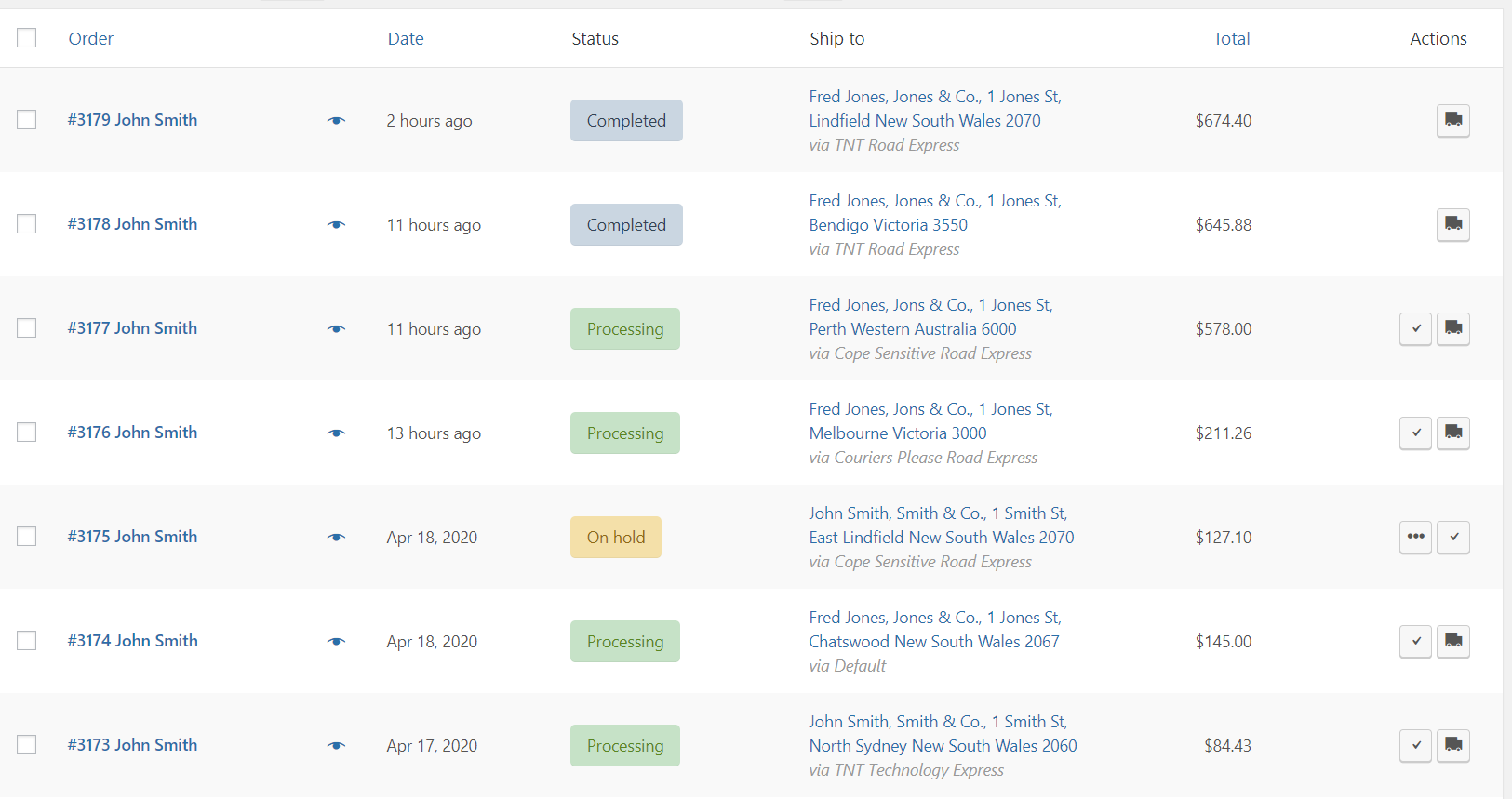 WooCommerce Administrator Order Summary page showing shipping information.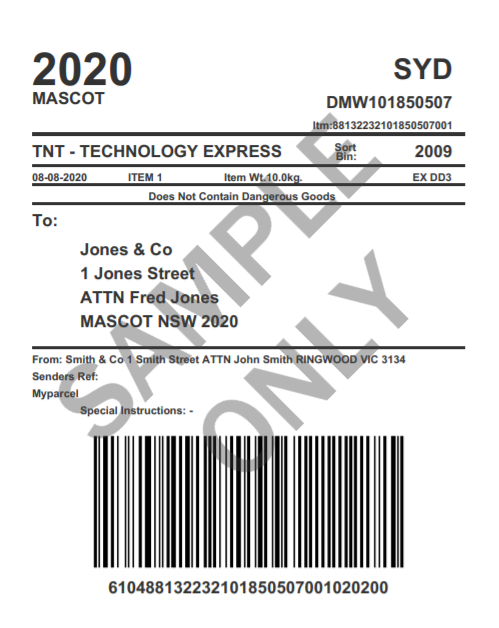 Sample shipping label.