January 24th, 2023:
Please note that we are currently experiencing a technical issue which is causing some Myparcel bookings to fail. Our developers are investigating and expect to resolve the issue soon.
In the meantime, if you are able to delay booking your freight for a few hours that will ensure that it goes through without a hitch. We sincerely apologise for any inconvenience caused.
December 13th, 2022:
WA Operational Update:
The backlog is clearing for freight into and exiting Perth.
The current timeframe is approximately 4-5 working days on the published transit schedule.
Please refrain from raising inquiries for ETA's, depot collections etc., and monitor the scanning events for consignments.
NSW and ACT Operational Update:
We have seen improvements with roads reopening and most access restored.
Permits have been required by local government authorities to access roads, to monitor usage while the road has been unstable.
Delivery into affected regions is still impacted due to depot congestion, in some cases, there are weeks of backlog-held freight.
Significant congestion remains in parts of:

Central West: Parts of Bathurst, Gooloogong, Canowindra, Orange, Cowra, Grenfell, Molong, Parkes, Forbes, Bedgerabong, Eugowra and Euvoal.
Dubbo Region: Bourke, Brewarrina, Walgett and Lightning Ridge.
QLD Operational Update:
There will be delivery impacts today to postcodes: 4551, 4553, 4562 due to road closures.
November 24th, 2022:
The transport industry has recently experienced some major challenges causing network strain and consequent delays. This is compounded by the strain the industry experiences at peak season (end of year).
Flooding:
Flooding has closed rail lines in three areas of NSW. These rail lines will not reopen until after Christmas. This has impacted all rail freight ex Brisbane and Sydney to WA and SA.
Derailment:
Earlier this month there was a major derailment that occurred outside Geelong VIC this morning. The derailment impacted all rail services and return services between Victoria and Western Australia. Carriers temporarily redistributed assets to utilise road transport into and out of WA, instead of rail.
Flooding and derailment are impacting the following rail services:
QLD, NSW, VIC to SA and return
QLD, NSW, VIC to WA and return
NSW, VIC to NT and return
Please note, these rail lines are shared among all transport carriers.
The transport industry is currently under great strain and businesses need to prepare that they may be required to upgrade services and wait longer than usual for pickup and delivery of freight, particularly along the East Coast and Western Australia. Transport carriers are still recovering from the last set of floods in NSW and VIC. Assets have been redeployed to Western Australia to assist manage demand. Where possible, we encourage you to send freight via air for an increased likelihood of pickup and delivery in a timely manner. Please also keep in mind that the estimated delivery dates in Myparcel are estimates and not guaranteed.
We have disabled some services in our platform into and exiting WA, as some transport carriers have introduced surcharges of up to 40%.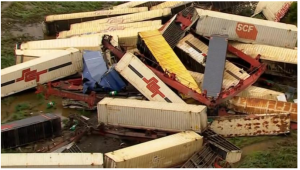 November 3rd, 2022:
We provide the following updates regarding flooding in NSW impacting transport throughout Australia.
Flooding from Broken Hill to Parkes is anticipated impact services until at least the middle of next week.
This is impacting road transport travelling through and into NSW, and rail services including Brisbane to Perth, Adelaide to Brisbane and Adelaide to Sydney and return services.
Transport carriers are continuing to source workaround routes to keep freight moving, including detouring through other states. However, due to the extent of the flooding we are expecting delays over the coming weeks.
Please see the below list of impacted suburbs:
Central West: Forbes, Parkes, Cowra, Condobolin, Gooloogong, Canowindra, Euvoal, Molong and Bedgerabong.
New England: Armidale, Boggabri, Glen Innes, Inverell, Tamworth.
Upper Hunter: Singleton, Scone.
North West: North Gunnedah, Moree, Narrabri, Wee Waa.
Upper North Coast: Coffs Harbour, Grafton, Lismore (drivers staying local due to flood warnings).
Dubbo Region: North Dubbo, West Dubbo, Gilgandra, Coonamble, Walgett, Lightning Ridge unable to access. Warren and Brewarrina limited service. Nyngan is on flood alert.
South Coast: Nowra.
Southern Tablelands: Cooma, Bombala, Boorowa.
Far South Coast; Bega.
Riverina; Wagga, Sandigo, North Wagga Wagga, Gumlu Gumly, Griffith, Randkin Springs, Weethalle, Lake Cargelligo.
Please be in contact if you have any questions or concerns.
October 13th, 2022:
We have received communication from transport carriers that flooding and inclement weather in Victoria and New South Wales is affecting service throughout Australia.
Railway lines are now closed ex New South Wales to and from Victoria and will remain closed for the next 2-3 days pending rainfall. This will affect all services ex New South Wales, including services to South Australia and Western Australia.
We have also been advised that some trucks in impacted areas are being asked to return to their depot due to the weather conditions.
September 19th, 2022:
There are a number of upcoming public holidays, state-based and national, as outlined below. Please keep in consideration when consigning freight that these public holidays may create delays in picking up and delivering your freight.
Australia's National Day of Mourning for The Queen: September 22nd (Myparcel will be closed).
Grand Final Public Holiday: VIC on Friday 23rd September.
Queen's Birthday: WA on Monday 26th September.
Queen's Birthday: QLD on Monday 3rd October.
Labour Day: NSW, ACT, and SA on Monday 3rd October.
July 6th, 2022:
Following our update yesterday, we can advise that additional areas are experiencing delays for pickup and delivery of freight due to flooding and consequent road closures.
Additionally, 97 evacuation orders are in place affecting approximately 45,000 residences. This has impacted some transport staff who are unable to attend work due to access issues.
Freight travelling by Rail
Due to severe flooding in some areas, the rail network is on hold for freight entering and leaving Sydney.
Freight travelling by Road
There is limited pickup and delivery of freight in the following postcodes:
Nepean – 2745, 2750, 2753, 2759 – 2761, 2766, 2770, 2773 – 2774, 2776 –2777
Wisemans Ferry – 2775
Kingswood – 2747 – 2749
Areas in Windsor / Richmond / Kurrajong / Kurmond / Grossvale/ Wilberforce/Clarendon / Freemans Reach / Pitt Town / Wallacia / McGrath's Hill / Glossodia/Bidwell /Warragamba – 2745 – 2770
Katoomba – 2778 – 2786
Moorebank & Liverpool – 2170
Prestons – 2170
Camden – 2570
Menangle & Menangle Park – 2563, 2568Part of Wollombi – 2325
Part of Lithgow – Roadside delivery for 2790
Part of Bathurst – Roadside delivery for 2795
Part of Parkes – Roadside for 2873 & 2875
Part of Cessnock, Singleton & Metford – Roadside for 2323, 2325 & 2330
Freight travelling by Air
Severe weather conditions across the East Coast and Sydney has resulted in flight delays.
Some flights are being diverted to different states to avoid severe weather.
July 5th, 2022:
Please be advised that flooding in Sydney is causing delays for pickup and delivery of freight in the following areas:
Nowra
Southern Highlands
Wollongong
Batemans Bay
Central Coast
Newcastle
Mudgee
Wellington
We anticipate there will be delays at least for the rest of this week.
If the location of collection/delivery of your freight is impacted by floods, please let us know and we can reschedule accordingly.
May 11th, 2022:
TNT/FedEx currently is not sending freight to some international locations, including Ukraine, Russia, Belarus and parts of China.
You can read more here: https://www.tnt.com/express/en_au/site/alerts.html
March 31st, 2022:
Myparcel would like to emphasise that due to repeated flooding in QLD and the Northern Rivers region of NSW and forecasted rain, we are expecting delays to freight travelling to these areas. This is partially due to major highways being closed leading to disruption. We are expecting delays to freight travelling through the following areas:
Linehauls to Brisbane along the Pacific Hwy
Linehauls from Brisbane along the Pacific Hwy
Freight travelling on the Gwydir Highway in NSW
Freight travelling to flood zones, including but not limited to Grafton, Lismore and Byron Bay to Tweed Heads – these areas are unserviceable
Please see the below image of the Pacific Hwy provided by First Express Couriers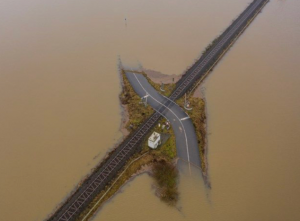 March 28th, 2022:
Myparcel has been advised of two updates to services in Lismore NSW, and in WA.
1. Lismore has been ordered to evacuate
Myparcel has been advised that Lismore NSW has been ordered to evacuate. This will impact the pickup and delivery of freight in this area across all carriers. We encourage our customers to hold onto freight destined for this area. We are carefully watching weather in Grafton and Coffs Harbour, as weather is expected to impact these areas soon as well.
2. TNT/FedEx Suspends Deliveries in WA
As a result of COVID cases in WA, TNT/FedEx have implemented restrictions on pickup and delivery of freight. This includes:
No ad-hoc domestic pick-ups
No Bulk permanent domestic pick-ups
Any freight within the network destined to WA will be delivered.
Service will resume Monday April 4th, 2022.
March 8th, 2022:
Due to significant rain last night, there will be delays this week for freight travelling throughout NSW and QLD.
To summarise:
There is localised flooding throughout Sydney and heavy rainfall continuing today, impacting pickup and delivery of freight.
There is localised flooding on the Gold Coast which is impacting pickup and delivery of freight.
There is heavy rain on the NSW South Coast impacting pickup and delivery of freight.
The Northern Rivers (including Lismore, Ballina, Byron Bay, Mullumbimby) are still impacted by flooding, carriers are requesting to not send freight to this area. Many receivers are not able to accept goods due to the extensive damage in this area.
We anticipate there will be delays to freight travelling into and from these areas for the coming weeks.
February 28th, 2022:
Please be advised that due to severe flooding in south-east QLD and Northern NSW, there will be impacts to the pickup and delivery of freight across all carriers. The Bruce Highway just after Gympie in South East Queensland has been closed in both directions and line hauls are unable to get through.
We encourage you to avoid sending freight to the following areas where possible:
Lismore and Grafton – Being evacuated
Coffs Harbour – Severe weather with many roads already cut off
It is likely that other areas will be impacted as the water quickly flows south. It is expected that this many include Tamworth and Dubbo. We will provide updates as more information comes to hand.
February 11th, 2022:
In January, there were major floods that washed away parts of the railway line and road in Western Australia, the Northern Territory and South Australia.
These floods caused major delays to freight travelling into these areas. The delays are expected to last until April 5th, 2022.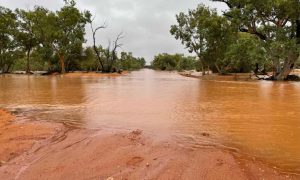 Source: Gillian Fennell via The Guardian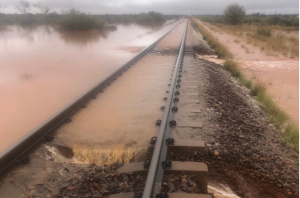 Source: ARTC via ABC
Many services that would usually travel via rail are now travelling by road (on trucks) and taking detours up to 1500kms to reach their intended destination. Or sometimes are unable to travel at all.
As a consequence, many transport carriers are introducing surcharges and levies to cover the costs of freight travelling into these areas and suspending services for days or weeks to catch up on the backlog of freight.
Any freight booked through Myparcel travelling into or through Western Australia, the Northern Territory or South Australia may be subject to additional surcharges beyond the quoted price provided on our website.